This event requires registration. Participants with festival pass or daily pass can access the registration here. Buy festival pass.
Wednesday

21. March
18:00 - 21:00
Lillehammer kino sal 2
Gjest
Mia Pedersen
Skuespiller, aktuell med ungdomsfilmen Team Hurricane
Gjest
Mathilde Jensen
Dansk skuespiller, aktuell med ungdomsfilmen Team Hurricane
Welcome to the opening of Amandus – Lillehammer International Student Film Festival.
The ceremony will consist of the official opening of the festival, which takes ca 20-30 minutes, before the opening film, Team Hurricane, is screened.
Two of the film's actors will be present, and will answer questions after the screening.
Films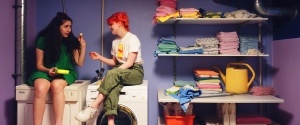 Team Hurricane (2017)
Regissør: Annika Berg
Varighet: 1 hour 36 min.
Team Hurricane tells the story of eight teenage girls that over the course of one summer come to realise they need each other to ride out the storm of ... Read more